From a life once shattered by tragedy comes an uplifting story and transformational guide.
Discover the life-changing journey chronicling one woman's downfall and resurgence through determination and faith. Designed to help just about anyone struggling to reignite their inner flame, Light Up Your Worth engages readers with motivational quotes, actionable life interventions, and incredible wisdom to launch you into the life you truly deserve. 
Rediscover the Light that leads to your heart.
Hello, Lovely reader,
I am delighted to introduce you to "Light Up Your Worth", a powerful book that contains secrets that assisted me in overcoming depression and difficult period in my life. 
With "Light Up Your Worth", You will gain the tools and inspiration through personal anecdotes, motivational stories, and practical advice, which will be the final words to reclaim your life with renewed purpose and power. This book is designed in a special way that will help you overcoming adversity and transform you to the better version of yourself.
As a woman, I can attest to the power of the content in this book as it personally helped me when I was going through a difficult time and feeling depressed. It also enabled me to discover the keys to my own empowerment and personal growth and to find my life path. You will find decisive words that will help you with self-discovery.
You'll be motivated by empowerment and personal growth to tap into your inner strength and realize your full potential in order to succeed and enjoy life. So, my Lovely Reader, If you are ready to transform your life, free yourself from limiting beliefs and reach your full potential, "Light Up Your Worth", is the book you have been waiting for, if you are here today, it is no coincidence.
Whisper a desire and Enter the Power of Change!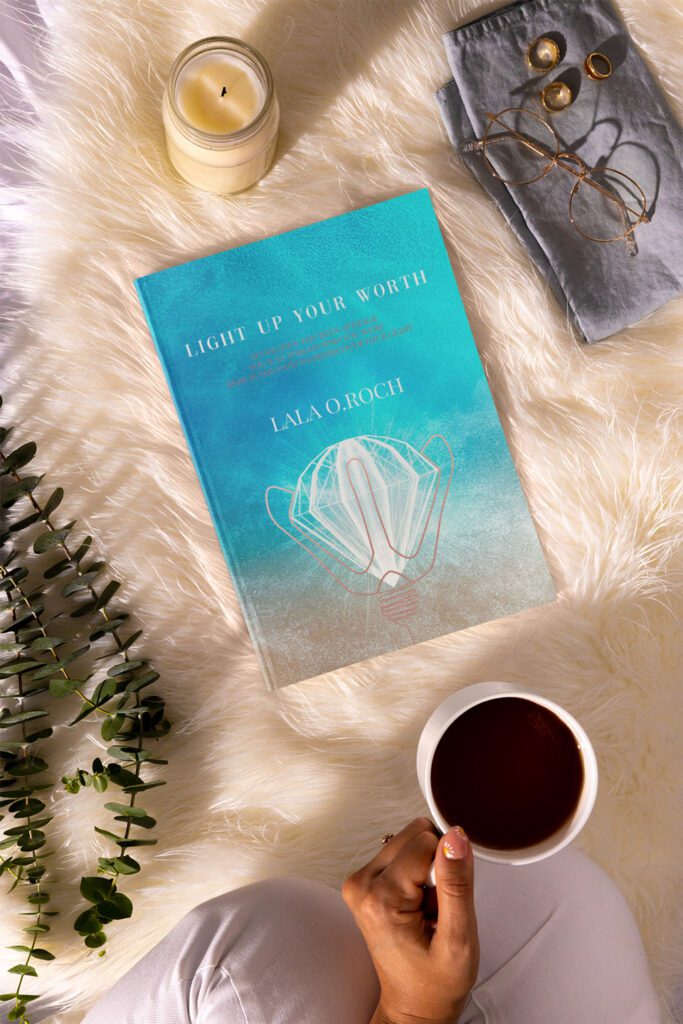 I love the pictures in this book. Also Lala tells her story so well and is very inspiring. Recommending to all of my friends.
For some people, like me, most of what being said in the book is resonating but it goes beyond explaining and uses examples, so far I'm at page 50 and I'm loving everything I read and can relate to some.
If you apply this book into your life. Everything will change. This book never gets boring and every chapters has a lot to learn, i think because it's based on life experiences.
Easy read, motivating, fun book I love Lala O.Roch and this book is great. Got unbelievably motivated and the workbook is a great tool !
This girl is so funny and the way she talks about spirituality is so genius and innovating. So much in this book. Definitely one of my favorite book.
The packaging the book the box I find Lala's universe to be absolutely fascinating. In addition, the book is very motivational.
Highly recommend this book for everyone one to read. A life changing book that must read when you feel low, best remedy for anxiety.
Great book gives accurate understandable information. Provides insight for both self awareness and awareness of others. I'm a therapist and I have recommended it to some of my clients.
This book resonates with you as an individual. It really does help you especially in these tough times and most importantly to make sure you take care of yourself and what's important to you. What I loved is that it was written in such simple words as if you're having an actual conversation with the author himself and can relate. Highly recommend!
I am dyslexic and have been avoiding reading books as much as I can, yet this book very quickly changed me as a person. This book is so relatable, it puts into words feelings that I could not explain. This book has given me confidence that I should not let myself fall to the same vibration level as others haters and I should focus on keeping my vibration levels up. It's taught me self worth and I highly recommend this book.